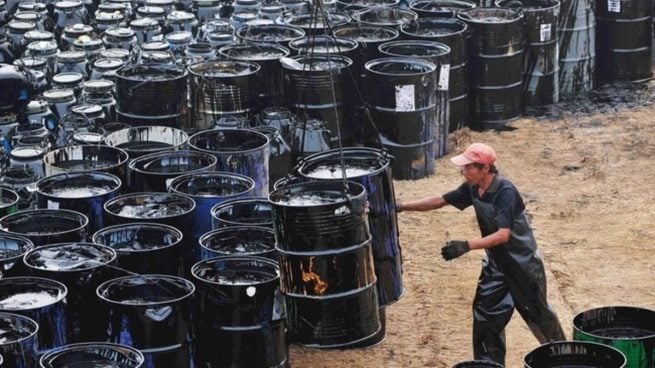 CRUDO
The rally in Brent crude oil prices continued in recent weeks, with the global oil price benchmark hitting a four-year high on 4 October before moderating slightly. Still resilient global demand and supply concerns are driving the rise in oil prices globally. On 5 October, oil prices traded at USD 84.4 per barrel, which was up 10.0% from the same day last month. Moreover, the benchmark price for global crude oil markets was up 47.8% from the same day last year and was 26.4% higher on a year-to-date basis. Fears about global supply disruptions in the wake of U.S. sanctions against Iranian oil exports led the rally in Brent crude oil prices. Iran is already feeling the pinch from U.S. efforts to reduce Iran's oil shipments to "zero", and the introduction of the second round of sanctions on 4 November will deal a further blow to the Iranian oil sector. According to analysts, Iran exported around 1.7 million barrels a day (mbpd) in September, well below April's peak of 3.1 mbpd. Japan and Korea have already cut Iran's oil imports to almost zero, while China, India and Europe have made significant reductions. Moreover, estimates for September show that OPEC likely failed to offset Iran's decline in oil exports, highlighting the fragility of global supply. Conversely, Libya has reportedly strengthened oil production in August and September following severe supply disruptions earlier in the year. Looking ahead, a combination of planned supply increases by OPEC and Russia, strong production in the United States and an uncertain global economic outlook is likely to push oil prices downwards. FocusEconomics panelists see prices averaging USD 77.9 per barrel in Q4 2018, before slipping to an average of USD 73.5 per barrel in Q4 2019. In light of recent developments, 18 of our panelists upwardly adjusted their Q4 2018 forecasts compared to last month. Meanwhile, 18 forecasters kept their projections unchanged, and 1 cut their forecast. Although oil prices will remain high this year, our analysts foresee some volatility going forward. The panelist forecast range for Q4 2018 runs from a minimum of USD 70.0 per barrel to a maximum of USD 90.0 per barrel.
PETROLEO:
West Texas Intermediate (WTI) crude oil prices continued to climb in recent weeks propelled by fears of global supply tightening and strong demand. WTI crude oil prices traded at USD 74.3 per barrel on 5 October, which was up 8.1% from the same day last month. Moreover, the price was 22.8% higher on a year-to-date basis and it was up 46.2% from the same day last year. Concerns that U.S. sanctions against Iran's oil sector due on 4 November will reduce global supply is pushing up oil prices, while strong growth in the United States is increasing demand for the black gold. Despite the sharp rally in WTI crude oil prices, the spread between the U.S. reference price and Brent crude oil prices has widened sizably in recent weeks; if the differential was close to zero by the end of Q2, the spread is currently at around USD 10 per barrel. Rising U.S. crude production and pipeline capacity constraints, particularly in the Permian Basin, drove the large trade discount. Crude oil inventories, thanks to surging oil output in the United States, rose by 8.0 million in the week ending 28 September, well above market expectations of 2.8 million. Moreover, crude oil outflows to Asia slowed in the same week due to an uncertain global economic outlook, pushing up inventories.
Looking forward, strong supply in the United States and an uncertain economic outlook will exert downward pressure on WTI crude oil prices. For Q4 2018, analysts expect prices to average USD 70.7 per barrel, before decreasing slightly in Q4 2019 to USD 69.0 per barrel. In response to recent developments, a majority of 15 left their forecasts unchanged for Q2 2018 from last month, 12 of our forecast panelists upgraded their projections, while 4 made a cut to their projections. The spread between the minimum and the maximum oil price forecasts remains relatively large, with numerous developments simultaneously affecting the oil markets in recent weeks. For Q4 2018, the maximum price forecast is USD 82.0 per barrel, while the minimum is USD 65.0 per barrel.
GAS NATURAL
Natural gas prices rallied in recent weeks and, on 3 October, they hit the highest level since the end of January. The increase reflected strong demand and low gas storage levels just a few weeks away from the commencement of the winter season in the Northern Hemisphere. Natural gas prices, however, receded in the following days on the back of reports suggesting a large storage addition at the end of September. On 5 October, the Henry Hub Natural Gas price was USD 3.14 per one million British thermal units (MMBtu). The price was up 12.5% from the same day in the previous month and was 6.4% higher on a year-to-date basis. In addition, the price was up 7.5% from the corresponding date in 2017. Natural gas prices rallied for most of September and at the onset of October, due to low storage levels ahead of the upcoming winter. Low stocks reflect a relatively cold spring and hot summer in the United States that have not helped to replenish deposits. Moreover, while late summer and early fall are good months to rebuild inventories, injections have been lower than normal. The EIA report from 4 October, however, showed that gas inventories increased by 98 billion cubic feet (bcf) for the week ending 28 September, surpassing the 88 bcf expected by market analysts and thus supporting natural gas prices. Looking ahead, the recent rally in natural gas prices should recede due to a planned increase in supply and a potential warm winter if there is a strong El Nino weather phenomena. Over the medium-term, however, demand will be strong due to a broader preference for greener energy, especially in China, which should push up prices. FocusEconomics panelists see the spot price averaging USD 3.04 per MMBtu in Q4 2018. They expect it to climb to USD 3.10 per MMBtu in Q4 2019. In light of recent developments, 10 panelists left their forecasts unchanged this month, while 6 decided to upgrade their price forecasts for the commodity. Meanwhile, 2 revised their projections downwards. The maximum price forecast for Q4 2018 was USD 3.50 per MMBtu, while the minimum forecast was USD 2.75 per MMBtu.